here"s the ebay description!!!!!! Cool old copy from the 60's. Has original neck plate and tuners, but that's about it. Loaded with a Bill Lawrence neck pickup and a DiMarzio clone in the

bridge position. Real Badass bridge as well. Wiring seems to work, and this guitar plays fine with a straight neck and low action. Comes with a British

Vox case from the 60's. I used to have a Vox Bulldog, and it came in this. All these parts and the case make this a great deal, and everyone will check

out this guitar, being a one-of-a-kind and all. White finish is an old finish over another white finish. Looks cool, though. Neck is original finish.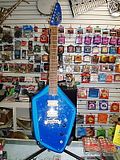 Ha, it is now on the site, pretty cool. probably plays well, dig the airbrush "californian". Buy it somebody!